On May 25, 2017, INSITER together with the Istanbul Policy Center (IPC) organises the INSITER-IPC Roundtable "A new neighbourhood for everyone? Trends of transition in Turkey, the EU and the wider region".
The roundtable takes place at 2 pm in the premises of the IPC in Karaköy and brings together academics, students and civil society representatives from Germany and Turkey.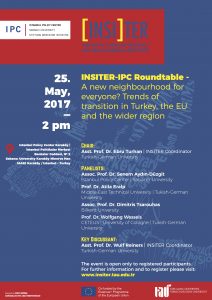 The event serves the purpose to approach Turkey-EU relations in a comparative way, focusing on the current internal dynamics and external orientations of Turkey and the EU and tackling the issue of Turkey's foreign policy and external action of the EU in the wider neighbourhood. It will pay special attention to most recent developments, for instance the Turkish-European cooperation to respond to the refugee crisis, the institutional evolution of the EU, post-Arab Spring dynamics and the political landscape.
The roundtable is convened by the INSITER Coordinators Ebru Turhan (Chair) and Wulf Reiners (Discussant) in cooperation with Senem Aydın-Düzgit (IPC/Sabancı University). Speakers include:
Assoc. Prof. Dr. Senem Aydın-Düzgit (IPC/Sabanci University)
Prof. Dr. Atila Eralp (METU University)
Prof. Dr. Wolfgang Wessels (CETEUS, University of Cologne / TDU)
Prof. Dr. Dimitris Tsarouhas (Bilkent University)
The event is designed for a limited number of participants including the students of the Master programme "European and International Affairs" of the Turkish-German University. It is open to external participants only upon invitation. For further information please contact the INSITER coordinator Ebru Turhan.