On June 24, 2017, the annual study and research trip of INSITER with the group of MA students of "European and International Affairs" of the Turkish-German University Istanbul was concluded. This year the students visited Paris (June 4-10), Brussels (June 11-16), Cologne (June 17-18) and Berlin (June 19-24). The journey served the purpose to experience real life politics first-hand and to take teaching inside the Turkey-EU relations by enabling the students to step into the everyday work of European, Turkish and International Organizations. By getting into direct contact with decisions makers of leading political, economic and administrative institutions students were able to study the complex interaction between the EU, national and subnational level of decision-making in the 'multi-level' political system of the European Union and to get a hands-on perspecti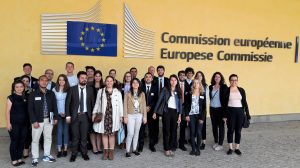 ve on how Turkey-EU relations are shaped in practice.
The programme was partly carried out in cooperation with other international partner institutions such as the University of Cologne, Sciences Po Paris, Université de Sorbonne Paris, Charles University Prague and the Centre International de Formation Européenne. Besides the joint visits to institutions the internationally composed group of students could engage in a simulation exercise that dealt with EU-Turkey relations in the context of differentiated integration in Europe.
The full programme of the excursion can be found here.